Overview
The ZipADip® Protractor was designed for geology students and geotechnical professionals worldwide. This unique protractor is the easiest and fastest apparent dip calculator ever invented. The ZipADip also functions as a conventional protractor and ruler with convenient scales in millimeters, and 10ths, 16ths, and 40ths of an inch. The ZipADip can determine an apparent dip in three quick motions. The ZipADip replaces the need for a Stereonet, or protractor in tandem with a calculator or an apparent dip table.
This is a ZipADip® Protractor. Please note the image resolution has been reduced for website viewing.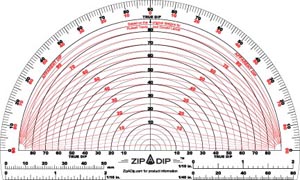 Physical Description
The ZipADip® protractor is constructed of clear and flexible laminated plastic and will not chip, crack, or peel under normal use. The ZipADip protractor now arrives with a thin plastic film coating that can be left on to preserve the finish of the ZipADip while working in the field. But if scratching is not an issue, carefully peel the film from both faces of the ZipADip protractor. The ZipADip measures approximately 6 inches by 3.6 inches and weighs approximately 0.7 ounce. The ZipADip comes in a protective envelope printed with instructions.